Scottish PGA Championship at Deer Park – (1st – 4th September)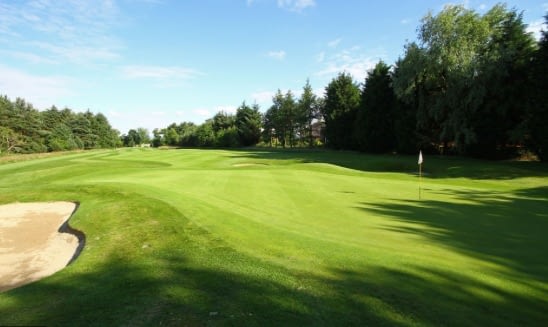 I was looking forward to this event, especially when I saw the draw I'd been given. Played with Graham Fox and Ross Cameron, two of the best players in the country and from the off the group did not disappoint.
I've not had much conversation with both guys in the past but just need to say what terrific players they are, and most of all real gents. I was tagging along here and was getting it round after a long layoff from PGA golf. But these guys just played so well and chatted so freely that it felt like an afternoon hit with your mates.
Got to share quite a bit with both Ross and Graham about my life and managed to give them the details for the new website for Logos Golf Ministries Scotland (logolfminscot.org.uk) which I encouraged them to have a look at and give feedback.
We'll see how that goes but really hope they do. The one thing that Graham and I got into quite a bit was how so much is forced on society these days and we are told what we can say and can't say. We agreed that forcing only ends up in conflict and all we can do is be there for people with some good advice, kind of what LGM Scotland is there for. 
I missed the cut by about 5 shots but did not expect to get through in this tournament with how little golf I'd played over the past 6 months and too many good players playing.
This event was more about the presence and I was very pleased to have cultivated two friendships with two of the best making them aware we are here for them and any other golfers also. At the time of writing this both Ross and Graham finished the tournament as the winner(15 under) and runner up (11 under). Not bad eh!
Logos Friendly Event at The Carrick
On another note, we managed to have another Logos Friendly Event, with the attendees being David-Ross Nicol (Dundonald), Jason McCreadie (Buchanan Castle), Jonny Sharp (The Carrick) and Nigel Scott-Smith (Palacerigg).
We were supposed to have Gareth Hardy (Prestwick St.Nicholas) and Craig Ronald (Carluke) come along but they got drafted to play in the Scottish PGA Pro-Am and didn't really have a choice as it was a tournament condition of entry that they play due to extra teams.
I pulled out the clubs and played with Jonny as a 2 ball which gave us a great chance to catch up and got to explain our whole reason for the ministry. Jonny is a good lad and we shared 4 hours of decent golf as well as meaningful conversation. At the end, we all sat down for dinner and shared our experiences and views which led to me posting the website on our group chat for the first time so everyone could have a look. A worthwhile visit to the Bonnie Banks!
Hopefully we can squeeze in one more Logos Friendly before the end of the year but will see if Covid-19 has any say in this. All support and prayers have been greatly received.
In his service,
Vincent